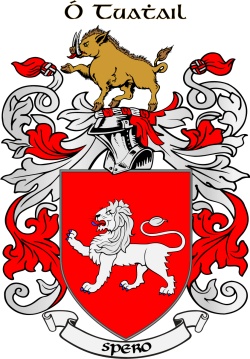 Get this crest printed on...
TOOLE Family History
The O'Tooles of Leinster, one of the leading families of that province, are descended from Tuathal mac Augaire, King of Leinster (d. 958), who belonged to the U? D?nlainge dynasty. The name is an anglicization of the Irish ? Tuathail. Their original territory comprised the southern part of the present County Kildare but they were driven from it during the Anglo Norman invasion and settled in the mountains of what is now County Wicklow around Glendalough.