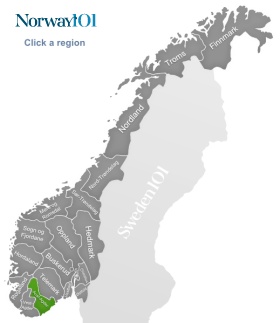 Aust-Agder
With a bit more than 110,000 inhabitants, Aust-Agder is an average-sized region of Norway. Aust-Agder is very popular with people because it's the region in Norway that gets the most hours of sunshine every year, so you have even more daylight to enjoy the beauty of this region. A very popular destination are the Skerries, the islands that lie off the cast of Aust-Agder. People in this region say that they are born with "seaweed between their toes", and the smell of seaweed is something you'll often notice when you explore this particular region of Norway.
The Skerries
The word sker comes from the Old Norse language and is translated as a rock in the sea – and that's exactly what the Skerries are: rocks in the sea. Big rocks though, but not big enough for people to live on them. There are many Skerries that can be seen off the coast of Aust-Agder, and in many places the Skerries make canoeing and kayaying are quite safe activity because they provide shelter and create safe and calm passages along the coast. The Skerries are one of the main drawing points in this region.
Kristiansand Zoo
The Kristiansand Zoo is one of Norway's most popular attractions for locals as well as international visitors. The zoo often calls itself the "living park", and prides itself on the huge variety of species the visitors can watch during a walk through the zoo. The park is not just a zoo though: it is a combination of a zoo with an entertainment park and a theme park. It stretches over 150 acres, and also contains some old Nordic terrain, which will give you a good idea about wildlife in Norway. There are native as well as exotic animals, and there is a many kilometers long network of good walking tracks throughout the whole park. You can just walk around for hours, and not get bored. It's definitely a great day out for people of all ages.
Outdoor activities in Aust-Agder
The scenery in this Norwegian region is just wonderful, and you'd be silly if you did not take part in some of the outdoor adventures. The Setesdal Rafting & Activity Center is just one of the places that offer you help with organizing your canoeing, rafting or mountaineering adventure. They also organize elk and beaver safaris if you are interested. Diving is also an option. If you are experienced enough, you can also just go ahead on your own. There is a lot to explore, and canoeing or kayaking are both excellent options to explore the coast. As about 80% of the population lives close to the coast, you will find a lot of peace if you move further inland, e.g. to explore one of Norway's major national parks: the Hardanger plateau.
Arendal
Arendal is the capital of Aust-Agder, and often a logical choice for people who would like to explore the surrounding region. The name of the city can loosely be translated as valley of the eagle, while the coat of arms funnily enough shows a seal. The town has been founded some time in the early 16th century, but it was only given the privileges of a market city town in 1723. There was a lot of trouble when it came to trading in that region, and there was also a lot of smuggling going on, because the law wasn't exactly in the favor of the people. Arendal is a great place to learn about the history and heritage of the Aust-Agder region.
Lillesand
Lillesand is the place to use as your base if you are interested in the the Norwegian National Park Skjærgårdsparken. Lillesand is a very popular place with national and international holiday makers. The town also has a fantastic museum in which you can learn more about history of the town and maritime topics. People who have read the great books by Jostein Gaarder might remember that Lillestand had been mentioned in some of his works.
Grimstad
While the name of this town might not sound very appealing, it's not a place to miss out on. It is a very lovely maritime town with a long pedestrian shopping street. The Maritime museum is a special place, and you actually have to take a boat trip to get there. Roald Dahl, a famous writer, used to spend his summers in Grimstad – and if he liked it, then you'll surely find it a very pleasing place to visit, too. It's not a grim place at all.