0 Hedmark Diaspora around the world
Our in-person family gatherings
Ireland's President Higgins family message
Our TEDx talk about family gatherings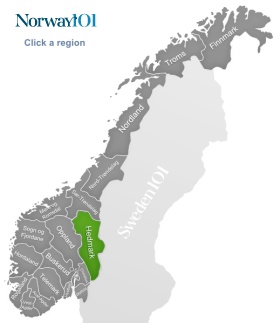 A bit less than 200,000 people call the Norwegian region of Hedmark their home. It is one of the regions that share a rather long border with Sweden. You can find Norway's biggest lake, Mjøsa, and parts of Norway's longest river, Glomma, in Hedmark. Hedmark is the region in which you can learn a lot about medieval history and heritage, as Hedmark is home to one of the biggest medieval museums. In general, there are many opportunities to learn about different aspects of life throughout different periods of times: from trapping, hunting and forestry, to railways and churches. There are indeed quite a few interesting churches to see in Hedmark: from old ones to ones that have burned down and have been reconstructed in rather interesting and unusual styles.
A visit to Hedmark can be a very educational, but also a breathtaking natural, experience.
The Migration Museum
This museum is a great spot for people who would like to know more about how Norwegians migrated to other parts of the world, and how they welcomed people from other parts of the world. You can learn quite a lot about the history of the Norwegian pioneers in the American Mid-West. So if you have Norwegian ancestors, then you might very well learn a bit more about their history and heritage in this very interesting museum. The museum also houses a research library for people who would like to learn more in-depth information about the topic of Norwegian migration – there are some very helpful resources in there.
Mjøsa
Mjøsa is the biggest and one of the deepest lake in Norway (the fourth deepest), and amongst the deepest lakes in all of Europe. It is typical long Norwegian lake: 117 kilometres long, but only about 15 kilometres wide at the widest part. As the lake is home to around 20 different species of fish, it is an interesting place for people who have an interest in fishing. The lake is also quite popular for a variety of activities on the water. Around 30% of the lake-side is built up, and many parts of the lake are easily accessible.
Greinbergskjerka
Greinbergskjerka, which can be translated as the church of Greinsberg, isn't what you'd usually call a church. It is a rather old place: it isn't even a building but a glacial erraticer that has a giant kettle in it. There are some local legends about Greinbergskjerka, and most of them say that this place was once used for purposes or some sort of religious nature.
Rokoberget
The Rokoberget is one of the churches that actually aren't really there any more. All you can see of St Michael's Church these days are a few rocks, i.e. ruins. Historians believe that the church was only used every now and then, most likely when pilgrims passed by on their way to Nidaros. If you have an interest in the churches of this region, and would like to see them in different stages of decay, then Rokoberget is a good example of a church ruin.
Stange Church
Moving from ruins to a better example of medieval church. The Stange Church is one of the oldest medieval churches you can find in Norway. It is not sure when it was built, but the first mention of Stange Church was in 1225. The thing is that the church that was mentioned in 1225 isn't the church that you can see today – that one was built in 1703. While inside, you can see some fine examples of what decorations in churches looked like during medieval times.
Våler church
Våler church is an example of a modern church with roots in the past. The church burned down in 2009, and has since then been rebuilt in a rather unusual style that you most likely wouldn't expect from a church. It has only been re-opened in December 2014. Some parts of the old church were saved, like the altarpiece from 1695, and the very old font from 1150. It is a pity that this very old church burned down, but it is interesting to see how modern architecture has been used to incorporate the old, remaining parts of the church.
The Norwegian Forest Museum
If you would like to learn more about hunting, trapping, and the forests of Norway, then the Norwegian Forest museum would be the wisest choice as you can learn all about the history and current state of these things in this popular museum. Around 100,000 people go and visit this fantastic museum every year.
Kongsvinger Fortress
The Kongsvinger Fortress was one of the most important fortresses in Norway's history. The construction of the fortress started in 1673, and no enemy was ever able to conquer the fortress. The main purpose of the fortress was to defend the region from invading Swedish armies.