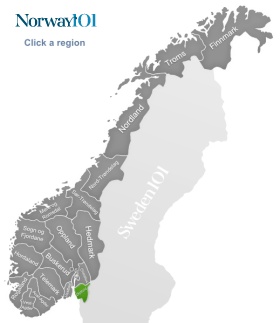 Østfold
Østfold is one of the smallest regions in Norway, and you can explore quite a lot within just a few days. The region has been under Swedish as well as Danish rule in the past, and shares a border with Sweden. Østfold has been inhabited for a long time, and it is one of the regions in Norway in which you can find signs of that early presence of humans all over the place: archaeological findings, ancient ruins, local legends, and stories. Fine examples of history can be found in the best preserved fortress town, and wonderful nature can be found just around the corner in one of the fine national parks. It's no wonder that other countries wanted to rule this region – strategically in a great place and also quite a few natural resources.
Fredrikstad
Fredrikstad is a very well-preserved fortress town, which would obviously be best enjoyed from an aerial point of view to see the half-star shaped water feature around it. It is also the birthplace of the polar explorer Roald Amundsen (about whom you can learn more during your visit in Frederikstad).
The town was founded in 1567, and in 2008 a conservation order was issued, so that 58 military building of the old town of Frederikstad would receive a special protected status. Frederikstad still has the defenses that were used in medieval times, and this sets it apart from other medieval fortress towns. While you are visiting this special place, you can also visit the actual fortress with its massive stone walls. It is a very special place to just walk around in. Sit in one of the cafes, go shopping in one of the quirky shops, or just explore the layout of this village. You can also learn more about the region by visiting a museum.
Ytre Hvaler National Park
While Ytre Hvaler National Park is mainly a marine park, it is a very interesting place to have a look at – especially because it is the only marine national park in Norway. There have been settlements in this area that were dating back to the Bronze Age. The settlements were mainly along the coast, and even today it is quite a popular area for fishing. There are dozens of shipwrecks in this marine park, and the frigate Lossen is one of the most famous ones. The two lighthouses of the park are nice for a visit, and another special aspect of the Ytre Hvaler National Park is that it contains Europe's largest sheltered coral reef.
Sarpsborg
Sarpsborg is worth a visit if you have some spare time while you are in Frederikstad. Many of the people who live in Frederikstad today might even originally have ancestors there as many people from Sarpsborg moved to what is now known as Frederikstad after a fire in 1567 (which was started by invading Swedish people). The city was rebuilt, but it wasn't a very lucky city: in 1702, there was a huge mudslide and the town disappeared into the river. In 1839 only, people gave the location another go, and so far Sarpsborg did quite well.
Halden
Halden is quite close to the Swedish border, and in the past, the Swedish people also took quite a bit of an interest in Halden. Halden is also home to one of Norway's most popular attraction with tourists: the Fredriksten Fortress. This fortress was built to defend the country against the invading Swedish troops. The fortress is a great place to spend a few hours in – you could even take part in an organised ghost hunt if that is your thing. Apart from the impressive fortress, Halden also has some very good museums and art galleries. It's a good place to learn about the heritage of the Ostfold region.
Moss
Moss is the place to go to if you are looking for a nice beach because Moss is the place with the most beaches in Ostfold. Moss is also interesting historically because it is the place where the Moss Convention was signed (on August 14th 1814). It is a place with great estates, and plenty of interesting activities. Walk to the Mossefossen Waterfall, see the Mill City, and then move on to the Moss Town and Industrial museum, where you can learn a lot about industrial design and the history of the local area.