0 Sogn og Fjordane Diaspora around the world
Our in-person family gatherings
Ireland's President Higgins family message
Our TEDx talk about family gatherings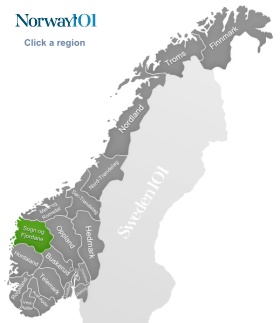 Sogn og Fjordane
One interesting fact about the region Sogn og Fjordane is that it is the only region in Norway in which every single municipality made Nynorsk (Neo-Norwegian) the official language. While the region with around 110,000 inhabitants is mainly a rural region, the fjord area is of outstanding beauty, and you can find some very special places within Sogn og Fjordane, e.g. Norway's longest fjord, the deepest lake, and the largest icecap. And Sogn og Fjordane is also the home to Norway's Westernmost point.
Førde
Førde is the capital of Sogn og Fjordane and the largest city within the region. Førde is an important industrial and educational center for the region Sogn og Fjordane, and also offers a few attractions that are of interest to a visitor from abroad who would like to learn more about the region and its heritage.
Sognefjord – the longest Fjord in Europe
While some Norwegians (especially tourist brochure writers) would like to make you believe that the longest fjord in their country, the Sognefjord, is not only the longest fjord in Europe but also in the whole world, this is not exactly true. Yes, it is the longest in Norway, and in Europe, but there are longer fjords in the world. The Sognefjord is an impressive 204 kilometers long. This fjord, together with Nærøyfjord, an arm of the fjord, and the Geirangerfjord are together listed as a UNESCO World Heritage Site.
Austerdalsbreen Glacier
If you feel like a walk on a glacier would be something interesting for you, then the Austerdalsbreen Glacier is a good option because the walk up on that glacier is reasonably easy, and you will be rewarded with fantastic sights. The Austerdalsbreen Glacier is often called one of the best glacier experiences you could have. There are also three glacial icefalls that you can see once you have walked to the valley of the Austerdalsbreen Glacier. They are named after the three old Norse gods Loki, Odin, and Thor.
Leikanger
Leikanger is a municipality in Sogn og Fjordane, and home to the world's 2nd, 3rd, and 4th longes powerline spans in the world. While it might not be a tourist attraction, it is quite an interesting fact. As a location, Leikanger is not a bad base to explore some of the fjord area, as two of the fjords are within easy travel distance, and the location of the coastal towns of Leikanger also is very scenic.
Sogndal
While Sogndal isn't a very big place, it has a lot to offer to a visitor. A very educational experience is a visit of De Heibergske Samlinger, some sort of living museum where you can see a collection of old houses and old tools. This is a place where you can get a taste of life in Norway of the past. Another place of interest in Sogndal is the stave church with the name Kaupanger Stavkirke.
Flåm and Aurland
Flåm is only 10 kilometers away from Aurland, so no matter which place you decide to stay in, you can easily explore both. Flåm is one of the busiest ports for cruise ships, so it can become quite busy during the season. A popular tourist attraction is the Flåmsbana, the world's third steepest "normal" railway in the world. Going on a trip with that train is a nice experience because you get to see some lovely scenery, and you definitely won't be disappointed. There is also a Flåmsbana museum in which you can learn more about the challenge of how the Flåmsbana has been built.
Hornindalsvatnet
The lake Hornindalsvatnet is the deepest lake in Norway and Europe. At its deepest point the lake is 514 meters deep, so you definitely don't want to try and reach the bottom. Mogrenda is a village at the lake, and would make a great place to stay if you would like to enjoy the beauty of the lake and the breathtaking surrounding area for a couple of days.
Jostedalsbreen National Park
The Josteldalsbreen National Park is a wonderful national park and home to Europe's largest glacier. If you would like to explore this park, then Fjærland would be the ideal starting point. It is only a tiny village, but it is a wonderful place in a scenic location, and has a lot more to offer than you might expect from such a little place. The little village also has the advantage that it is close to two of the glacial tongues. You can easily access the national park and it's impressive glacier from there. The other great – often overlooked – thing about this little village is that it is one of Norway's book towns. You can get books everywhere – used books, new books, rare books, foreign language books, you name it. There also is an honesty book store where you take a book and then hopefully put the right amount of money into an honesty box.