0 Oppland Diaspora around the world
Our in-person family gatherings
Ireland's President Higgins family message
Our TEDx talk about family gatherings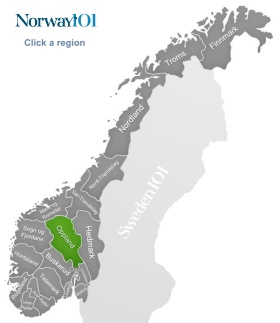 Oppland
Oppland is one of only two regions in Norway that has no access to the ocean, but that doesn't make it any less interesting. While a lot of the region is reasonably flat (however, you shouldn't forget that even the flattest regions are at least 600 meters about sea level), the more Northern parts are very mountainous and ideal for people who would like to have a bit of a break from civilization. You can find some more very high mountains in the North of Oppland. The region is known worldwide because it hosted the Olympic winter games in the year 1994. The mountains with their great skiing and winter sport opportunities were an ideal surrounding for it.
While farming and tourism are the two main players in the Oppland economy, there are also plenty of different industries in the region. It might not be the most scenic region of Norway, but you can definitely learn a lot while you spend some time in Oppland. It is a region that can easily be explored even if you decide to use Oslo as your base.
With four national parks and two nature reserves, this region also has plenty to offer for people who would like to see a variety of different Norwegian landscapes. The only thing you don't get in Oppland is fjords, islands, and skerries.
Valdres
Valdres is the place to go to if you are interested in some fine examples of stave churches. Some of the stave churches in Valdres date back to almost the times of the Vikings. There is also a fascinating stone cathedral. While many of the churches are usually not open for visitors, there is a chance that you can enter them during the summer months, when local students voluntarily offer guided tours of the interior.
Lillehammer
Lillehammer was the place which was used as the base for the 1994 Winter Olympics. Thanks to the decision that the games were held in this charming village, many of the facilities in the village have been upgraded and visitors benefited from that ever since. The main reason why people visit this village these days are the wooden houses from the 19th century, Lake Mjøsa (which is partially in Oppland and partially in Hedmark), and the Maihaugen museum. The Maihaugen museum is the largest living museum in Norway. There are 200 old (and some new) buildings which will tell you all you need to know about the life in old Norway. There are even some farm animals that you can meet on traditional farms. It is not only a very educational experience but also a lot of fun. You can easily spend a whole day in that living museum.
Gjøvik
Gjøvik is not only home to the world's oldest still working paddle steamer that worked on a timetable (more about that below), it also is the home of a very interesting part of the Olympic games: the Gjøvik Olympiske Fjellhall. This hall is completely built into the side of a mountain, and today, you can hire skates in there to skate on ice-hockey field that was used for many of the Olympic events in 1994. If that is not your thing, then you can also visit the local museum in which you can learn more about the general history of the region around the town.
Skibladner – the world's oldest still running paddle steamer
Skibladner is one of the most popular tourist attractions in Oppland. The old lady has been working for well over 150 years and does not show a sign of slowing down. In summer, tourists can go on a cruise on the old paddle steamer and step back in time to experience what it was like to travel 150 years ago. You can walk around the ship while you are on the cruise and have a look at how everything works. If you are lucky, then the engineer might even let you shovel some coal, so that you can say you helped keeping the steamer going!
Jotunheimen
This is one of Norway's most famous mountainous areas as some of the highest summits can be found in this area. Much of the Jotunheimen area is a designated national park. Some of the peaks are not for inexperienced people – no, make that MANY of the peaks. However, if you have some good hiking boots and average fitness, then you will be able to enjoy the many hiking paths for people of almost all levels of fitness. There are small rivers, glaciers with lakes on them, and only very few trees. However, you can also find Norway's deepest valley in Jotunheimen: the Utladalen canyon.