0 Rogaland Diaspora around the world
Our in-person family gatherings
Ireland's President Higgins family message
Our TEDx talk about family gatherings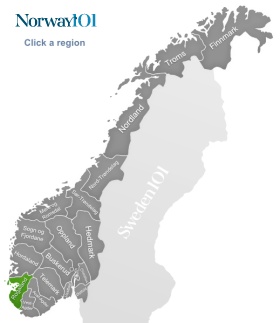 Rogaland
Rogaland is one of the richest regions in Norway with an unemployment rate that is usually as low as 1%. With this also comes one of the highest fertility rates in Europe – after all, if people don't have to worry about money, it's more likely that there are confident enough to have children. Rogaland is the center of the petroleum trade in Norway – and this is one of the main reasons why this region is so rich, and why there are not many unemployed people.
Rogaland has been inhabited for thousands and thousands of years as the find of a skeleton of a boy from the Stone Age confirmed. It used to be a petty kingdom (which means that there were many little kingdoms within the same region as opposed to one kingdom with one very powerful king), and some interesting archaeological finds included a number of Irish crosses.
Gursli Mines
The mine at Gursli was active from 1915 to 1919. The mine was a molybdenum mine. Molybdenum is mainly used to make steel stronger and harder. In World War I, the mine was vital in supplying the industry with this important element. The mine was forced to close in 1919 because the prices for Molybdenum fell dramatically and it financially simply wasn't possible to continue the operations. Today, the mines are a visitor attraction.
The Norwegian Petroleum Museum
Seeing that petroleum is such an important part of life in this Norwegian region, a visit to the Norwegian petroleum museum is a must. There is hardly a better place where you can learn about the industry and its history. The museum does not only explain the history though. You will also receive a lot of information about what petroleum actually is, how it is found and what the difference between the production of gas and petroleum actually is. Now don't think that you'll not understand a word: all texts and videos are presented in Norwegian as well as in English. A very interesting experience in the museum is the Catastrophe room, and there are also plenty of activities for younger visitors. All in all, a visit to this museum will give you a lot of new information, but it will also entertain you and can keep you busy for half a day at least.
Preikestolen (Also Prekestolen)
The translation for Prekestolen, one of the region's most popular tourist attractions, is preacher's pulpit. A steep, 604 meters high cliff rises above the Lysefjord. It has been formed around 10,000 years ago. The top is almost flat, and up to 200,000 people visit this natural attraction every year. The rock has only become so popular in the recent past, and currently there are some improvements under way to make it even easier accessible (which can actually be seen as a negative development). Go there before it's completely overrun with tourists.
Kjerag
Have you ever seen photos of people standing on a huge rock that it wedged between the sides of a crevice of a mountain? It is very likely that it was a photo of the famous Kjeragbolten, which is a big boulder that is wedged in a crevice on Kjerag mountain. While it is possible to just walk to the rock and stand on it, you need to be aware that there are no safety rails, and there is a 241 meter drop – so not exactly a very safe spot. The mountain Kjerag itself is a very popular spot for visitors. The Northern side is most popular because it drops down to the fjord Lysefjorden, and there are some spectacular views. There are easy and extremely difficult routes (for climbers), so make sure that you choose the right one for your experience level. The Kjerag mountain is also very popular for base jumpers.
Stavanger
Stavanger is the biggest city in Rogaland, and definitely worth your time as there is a lot to explore – whether it's ancient archaeological finds, medieval churches or modern art. There's something for everything. There also is a lovely botanical garden if you feel like you need a break from all the culture and heritage.
The Stavanger Cathedral is one of the must-see stops for visitors. It is built in the Romanesque style, and was built some time around the beginning of the 12th century. Later one, some Gothic elements were added to the cathedral, and there's no better preserved medieval church in Norway. Other places that you might find very educational are the Stavanger Oil Museum, the Rogaland Kunstmuseum (an art museum), and the Canning museum. Another place of interest is the "Three Swords", a sculpture of three swords that sits in front of a nice view of the fjord.