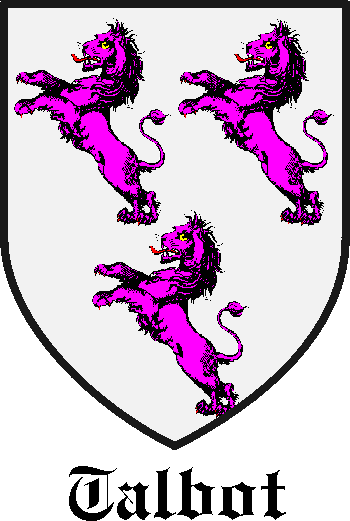 Get this crest printed on...
TALBOT Family History
This distinguished surname is recorded in many forms including the popular Talbot, and the more unusual Talboy, Tallboy and Tallboys, is both English and French, but of Old French origins, pre 7th century origins. It is claimed to have two distinct possible origins, each with its own history and derivation. Firstly it may derive from the French male given name "Talebod", itself from the Old German "Talabod", and a compound of the elements "tal", meaning to destroy, with "bod", the meaning of "tidings", and hence the "messenger of destruction", a suitably war-like name for the ever-warring Dark Ages. As a personal name, this was introduced into England by the Normans after the Conquest of 1066, and a Talebod de Neweham is noted in the 1146 Book of Seals for Essex...