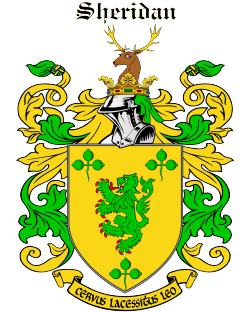 Get this crest printed on...
SHERIDAN Family History
This is an Anglicized form of the Old Gaelic name O' Sirideain. The Gaelic prefix "o" indicates "male descendant of", plus the personal nickname Siridean composed of the element "siride" meaning "elf", plus the diminutive suffix "an". In Irish mythology, the elf was usually looked upon as a rather mischievous creature, so we can presume that the first name bearer was a mischief maker. The family originated in County Longford where they held church property. Later they moved to County Cavan - the county in which the name is most prevalent today. The Sheridans distinguished themselves in the field of literature...