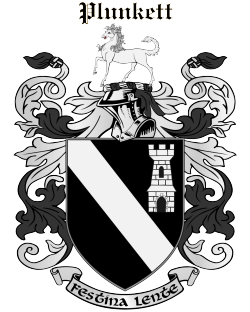 Get this crest printed on...
PLUNKETT Family History
This is a surname which is most famous in Ireland, came from England, but is ultimately of French origins. Spelt as Plunkett and sometimes Plunket, it is believed to be a dialectal distortion of 'blanchet', meaning white, and hence a nickname surname. Introduced into Ireland after the Anglo-Norman Invasion of the country in 1170, and according to the Ireland's most prominent etymologist, the late Edward MacLysaght, (quote) 'the name is not found anywhere except in the case of exiles of Irish stock'. We have some doubts about this statement as the surname is recorded in London church registers at least as far back as the 16th century, which may be rather early for 'imported' names...