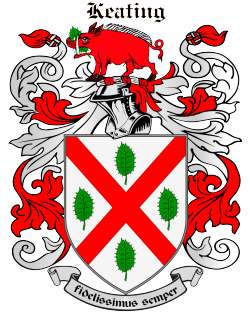 Get this crest printed on...
KEATING Family History
Recorded as Keating, Keeting and sometimes McKeating, this is an Anglo-Irish surname, but despite the occasional use of the Gaelic or Celtic Mac or Mc, is one of English medieval origins. According to the late Edward MacLysaght, the foremost authority on Irish surnames, (quote) "This great family entered Ireland with the Anglo Norman invasions of 1169-1170, and is regarded as one of the earliest of the hibernicized settler families". The surname derives from the pre 7th century English patronymic Cyting, a compound of cyta meaning "kite", and originally given as a nickname to a fierce, rapacious person. The suffix "ing", in this context means the "sons or dependants of"...