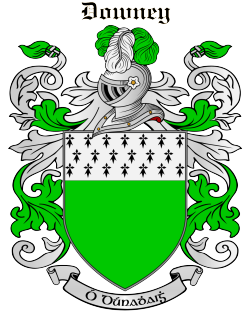 Get this crest printed on...
DOWNEY Family History
This name, with variant spellings Downie and Duny, has two distinct possible origins, the first being an Anglicized form of the Old Gaelic "O Dunadhaigh". The Gaelic prefix "O" indicates "male descendant of", plus the personal byname Dunadhach, the keeper of a fort, from "dun", a fort. The leading sept of this name belonged to the ancient territory of Ui Maine, (Mid Galway and South Roscommon), and the other chief sept were lords of Luachair, a district lying on the borders of Counties Cork, Kerry and Limerick. Another ancient County Galway name "O Maoldhomhraigh" meaning "descendant of the servant of the church" was initially Anglicized Muldowney, later abbreviated to Downey...