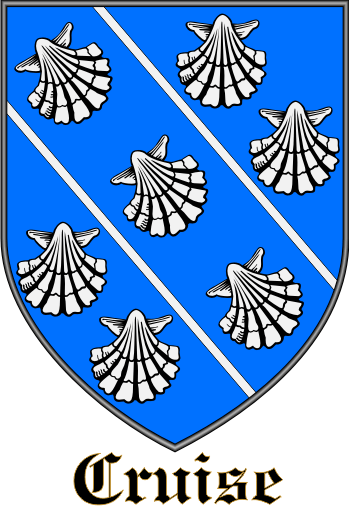 Get this crest printed on...
CRUISE Family History
This interesting surname, with variant spellings Crew, Cruise, Cruse, Cruwys and Crouse may be of three possible origins. Firstly, it may be of English locational origin from "Crewe", in Cheshire, recorded as "Crev", in the Domesday Book of 1086, "Crue" in 1346 in the Index to the Charters and Rolls in the British Museum. The placename is composed of the Welsh word "cryw", stepping stones. Secondly, the surname may derive from the Medieval English "cr(o)us(e)", bold, fierce, a nickname for a fierce bold and daring person. Finally, the surname may perhaps be of French habitational origin from "Cruys-Straete" in Nord, from the Gaulish word "crodiu", hard...