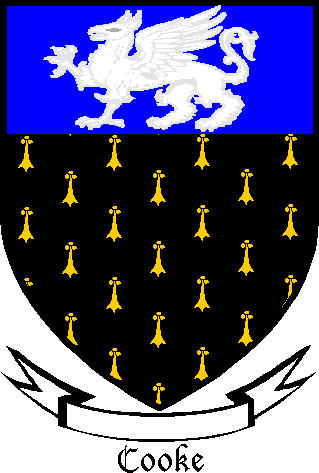 Get this crest printed on...
COOKE Family History
This interesting surname is of Scottish origin, and is derived from the occupational name for a cook, derived from the Latin "cocus"; the name could also have been given to a seller of cooked meats, or a keeper of an eating house. The name development since 1178 (see below) includes the following: John Coquis (circa 1190, Kelso); Radulphus Cocus (1204, Dryburgh); Richard Cook (1274, Dunfermline); William Cuk (1398, Aberdeen); and John Cuke (1402, Edinburgh). The modern surname can be found as Cooke and Cook, and is very common in both Scotland and England. An early settler in America was one Garret Cooke, who set sail from London on the "Primrose" in July 1635, bound for Virginea...